Sideloader – 200/300mm FAB Loading Equipment
Sideloader – 200/300mm FAB Loading Equipment
The Sideloader is a collaborative and compact piece of robotic equipment, capable of automatically loading and unloading equipment with PODs (200mm Wafers) or FOUPs (300mm Wafers). It is "the last meter delivery solution" which extends the field of operation of AMHS (automated transport vehicles) in non reachable Fab zones. .
The Sideloader is an agile solution for any production line modernization project in Fab 200mm and 300mm. In addition to its automatic loading and AMHS extension functions, it combines the advantages of local storage positioned as close as possible to the equipment and the Hub function between the various PODS/FOUP transport modes (Manual, AMHS, Robotic mobile on the ground). Thanks to its fully integrated FAB communication standards (SECS/GEM/E84), its simple and flexible configuration as well as its compact size, the Sideloader fits perfectly into any existing system or production unit.
Intelligent modulable shelves
200-300mm gripper
Collaborative robot
>900 transfers per hour
Multi-zone security camera/radar
Flexible and evolving configuration
Automatic, semi-automatic and manual modes
Ergonomic E95 tactile interface
SEMI E84 infrared communication
E30 SECS/GEM/E88 Stocker communication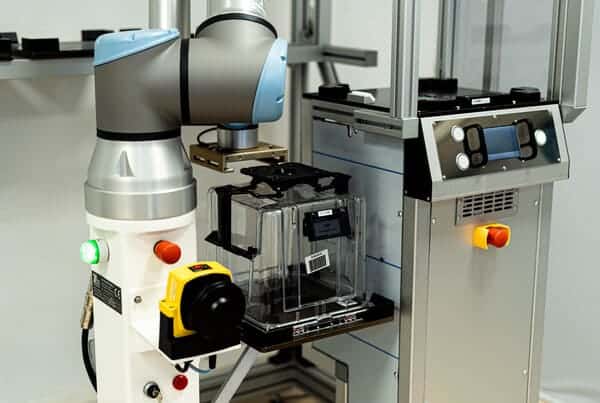 Engineering solutions for the semiconductor fab
Increased rate of loading and unloading of tools loadports;
Improved workstation ergonomics and reduction of  MSD risks for operators;
Optimization of traceability and reliability of handling;
Guaranteed convergence between the different means of transport, both automated and
manual within the FAB (AMHS/AMR/Operator).