FOUP Inspection System for 300mm FAB
FOUP Inspection System for 300mm FAB
The FOUP Inspection System equipment automates the inspection process for FOUPs (300mm wafers). The Inspection System provides more reliable control as well as being more complete and faster than in its manual version. It also gives more assurance that the next batch of wafers will be processed in a Semi-compliant FOUP. In its standard configuration, this equipment is capable of the following:
Identifying the type of FOUP analyzed;
Checking the correspondence between the hull and its door;
Checking the absence of wafers or wafer/foup debris inside the shell before analysis;
Checking the integrity of the FOUP opening System;
Checking the position of the purge port filter;
Checking the presence of the clamp;
Counting and checking the position of the retainers on the door;
Checking the integrity of the door seal;
Checking the position of the door blocking strip;
Checking that the door is properly clipped in the closed position.
Automated loading of FOUPs by Fab OHTs (manual mode available).
Automatic launch of the control process (manual mode available via the HMI).
Identification and control of critical elements by camera.
Instant isolation of faulty FOUPs, real-time automation information.
Storage of control files and test results locally before automated transfer to the MES.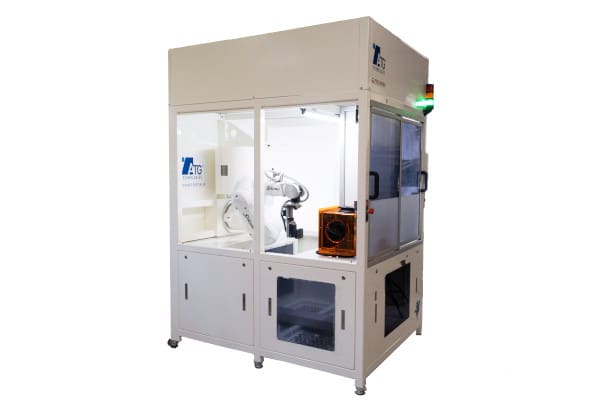 Engineering solutions for the semiconductor fab
The implementation of a more reliable, more complete and faster FOUP control process.
The guarantee that future batches of wafers will be processed in "Fit For Use" FOUPs.
The performing of ten tests in 2min30s in the standard configuration.
The compact dimensions of the cell.
Fully automated operation with a manual mode also available.
The plug and play installation of the autonomous cell equipped with its own FFU to prevent contamination.
Direct control by automation thanks to the SmartGem platform.
Quick configuration of any new faults.
New types of FOUPs can easily be integrated into the Fab process.