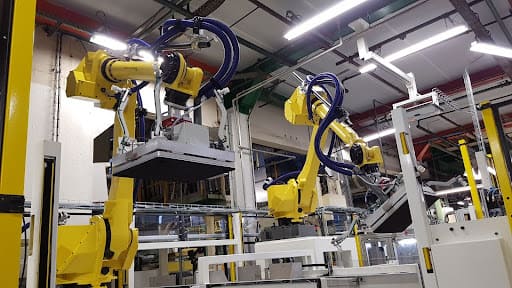 Automated Product Palletization
Specialized in the palletisation of products with atypical shapes, ATG Technologies offers innovative and robust solutions to achieve your goals, whether you are a factory manager, a project manager or an industrial supplier.
The need for automated palletization
Palletizing your products at the end of the production line is often a bottleneck that can justify the automation of your end-of-line processes. Indeed, even if you have already automated the different steps of your manufacturing process, the sorting and packaging of your products is essential to optimize your production and limit human errors.
The profitability of such an installation can vary from a few months to a few years but it is always on the short to medium term. The ROI is calculated based on several criteria including the reduction of the error rate, the reduction of the scrap rate and the increase in productivity while reducing the drudgery of the operational stations.
Solutions and Expertise of ATG Technologies
ATG Technologies, with its 20 years of experience in the automation of the palletization process for several industrial companies in France and around the world, integrates innovative technologies to offer you robust and scalable solutions.
Our unique R&D work in our high-tech laboratory "MGA Techlab 4.0", allows you to benefit from all the latest innovations in the field of industrial automation and digitalization of your production tool.
We will bring you into Industry 4.0 with high-performance, robust machines that guarantee a reduced carbon footprint and increased process and operator safety. The acquisition of optimized data allows you to guarantee your customers a perfect traceability of the processes.
Latest Developments in Automatic Palletization
Get a custom quote for palletizing automation
Contact our experts to get a custom quote or documentation for an automated solution for your production.