Robot manufacturing solutions for semiconductors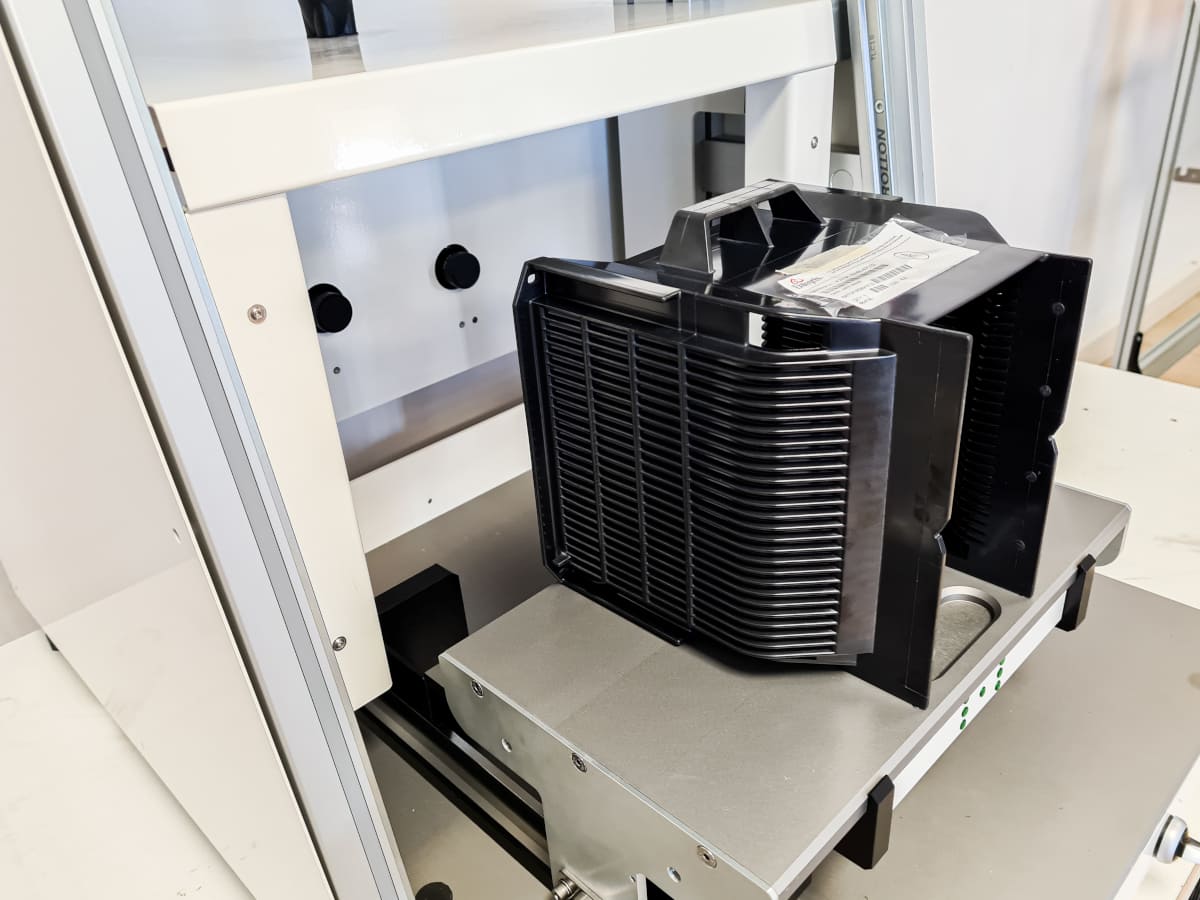 The integration of automated robots is the solution to make wafer handling processes more efficient and reliable. Thanks to these robots, operators will no longer have to perform manual gripping, loading and unloading. These tasks, which are repetitive, highly accurate and tedious, are automated.
To gain operational efficiency and become more competitive, choose ATG Technologies semiconductor robot production solutions.
Benefits of automating handling and production processes
Semiconductor robot production solutions are a set of robotic and cobotic solutions that enable the automation of semiconductor handling and production processes. They meet the needs of the industries' production facilities for reliability, repeatability and throughput.
Automating wafer production is advantageous when there is an increase in semiconductor requirements or a shortage. This is because robots provide high repeatability, which optimises productivity for the company. Together with the reduction in manufacturing costs, this increase in productivity makes the industry more competitive.
Furthermore, compared to manual operation, automation of wafer handling, loading and unloading makes operations safer. Since they are carried out with great precision, errors and defect rates are significantly reduced. Robotic solutions also increase the availability of employees, as they are relieved of performing tasks that are too repetitive and have little added value. They can be assigned to other more rewarding and less strenuous jobs.
Robot manufacturing solutions for semiconductors
ATG Technologies offers various robotic solutions for the perfect control of your semiconductor robot production processes.
The ATG Technologies Sideloader allows the automation of the loading and unloading of your pods and foups. It can be deployed in areas where automated transport vehicles (AMHS) cannot operate and within the framework of modernisation projects of existing production units.
As for the Mobile Manipulator (Comobot™), it is an autonomous mobile robot (AMR) used for the automated transport of foups and pods. Along with the automated sideloader, it is also used to extend the range of automated transport vehicles (AMHS) that cannot service certain areas.
ATG Technologies also designs and manufactures automatic loading systems for Mercury ISPs. This equipment can perform a variety of automated tasks, such as cassette/pod handling, wafer handling, recipe management, and pod storage and supply. The inspection machine is used to check the quality and integrity of the wafer transport boxes for pods (200mm) or foups (300mm). Finally, in partnership with its sister company Focussia, ATG Technologies offers tool automation software under the SECS/GEM protocol.
All these solutions for the production of semiconductor robots can be adapted to your constraints and to the specificities of your production units.
ATG Technologies, partner in semiconductor automation projects
To become more productive and more competitive, make ATG Technologies your partner. We can accompany you in the realization of your automation projects for semiconductors. With more than 20 years of experience in the field of automation for the semiconductor industry, we are able to meet your needs for the modernisation of production units. Together with our sister company Focussia, we design and implement innovative and agile solutions to optimise your company's productivity, to reduce your manufacturing costs and to improve your competitiveness. ATG Technologies and Focussia's semiconductor robot production solutions are customizable, according to your constraints and requirements.
Do you have any questions? Contact us quickly via the contact form.
Get a free no obligation quote
Contact our sales team for a personalized quote.