Storage Rack For Foups / Pods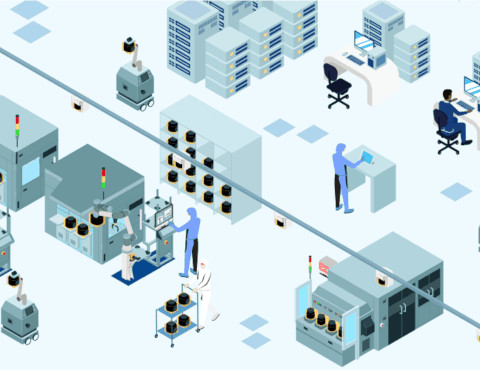 Does your company operate in the field of semiconductor and wafer production? If so, you will need a storage rack for your Foups/pods.
It allows you to safely store or stow away these boxes until their contents are used. To equip your production line with this type of equipment, trust ATG Technologies.
Generic Characteristics Of A Storage Shelf For Foups/Pods
The process of manufacturing semiconductors, wafers and processors in an enterprise is long and complex. The operation involves a number of pieces of equipment that are used not only for handling, but also for storage. One such piece of equipment is the foup (for Front Opening Unified Pod). These are plastic enclosures that are used to hold and store wafers in a controlled environment before they are passed on to machines for measurement or processing.
Companies with the capacity to produce a large quantity of semiconductors or wafers per day need to procure lots of foups/pods. Thus, the location of these pieces can become a real problem, especially if there is very little space available in the company. That's why it's so important to have a storage rack for your foups/pods.
This is a rack system used to securely hold each cassette case on three sides. To prevent the cases from moving and falling, they are held by a horizontal rod.
The storage rack has a number of features:
A unique wall-mounted system dedicated to the semiconductor industries
Serves to reduce drops and breakage as there is no stacking
Free flow design improves laminar flow around the workpiece
Free-flow design limits particle accumulation
Designed to protect valuable parts
Customizable dimensions and accessories to suit the needs of the production line
Benefits Of A Storage Rack
There are many advantages to using the Foups/Pods Storage Rack, such as:
The elimination of stacking: this prevents the fall of cassettes and thus the destruction of the semiconductors contained in them. The shelf also protects the products against possible earthquakes.
Optimization of the yield, as the beats are more accessible.
Improvement of work processes due to a well organized workplace.
Optimization of the available space: the shelf appears to be the best solution if the company does not have enough space for the storage of a high number of foups or pods. Since it takes advantage of the height of the space, it also makes the maintenance of the premises easier.
Your Custom-Made Shelf For The Storage Of Foups With Atg Technologies
Are you looking for a custom-made shelf for the storage of your foups? Then choose ATG Technologies products. We are a company specialized in the automation and robotization of production lines. Our goal is to provide you with equipment that will make your manufacturing process more efficient and increase your production capacity.
ATG Technologies can equip any production line with a custom-made storage rack for beads/pods. To do so, we take into account your needs and your operating constraints before designing your products. In addition to shelving, we also offer other products for semiconductor manufacturing companies, such as stand-alone pod or pad handling systems, kitting or dekitting and storage of wafer baskets, automatic pod or pad transport, etc. For more information about our products and services, please contact us.
Get a free no obligation quote
Contact our sales team for a personalized quote.