Semiconductor Wafer Handling Robotic Cells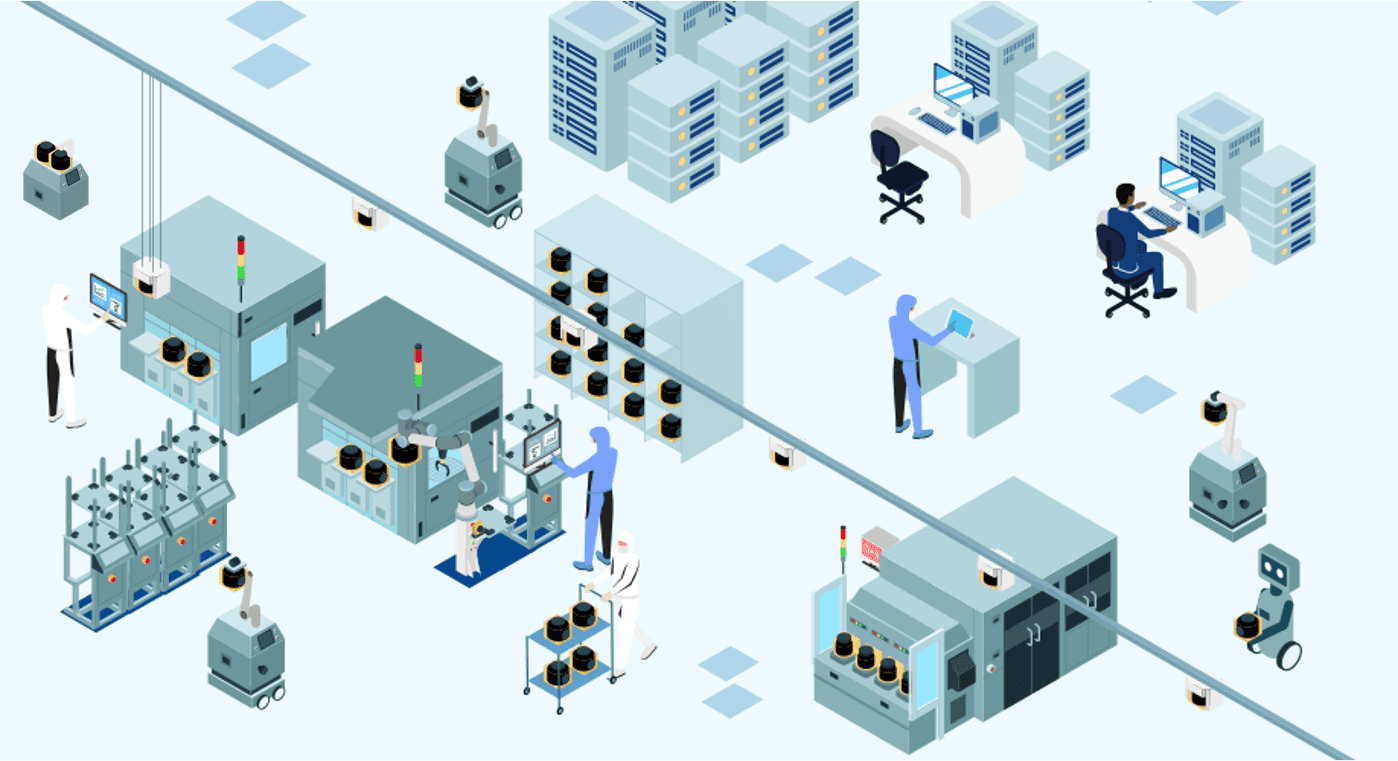 A single layer of wafers handled in the back-end area costs several thousand euros. This means that any handling error can result in a substantial loss for the company.
To make the wafer handling process easier and safer, many semiconductor industries are deploying innovative solutions. One such solution is ATG Technologies' robotic wafer handling cells.
Wafer Handling – A Process Requiring Precision
The manufacture of semiconductors is a long, complex and highly precise process. During processing in the cleanroom, wafers or silicon wafers must be handled several times. This handling must be ultra-secure in order to maintain the quality and integrity of the wafers contained in the pods or foups.
The semiconductor industries are now automating wafer handling operations. To this end, they are deploying ATG Technologies' robotic wafer handling cells. With these, wafer handling operations are carried out with great precision in order to protect them. These robotic solutions perform precise wafer gripping and pod/blank loading and unloading. Robotic cells are particularly useful in sophisticated coating processes, wafer packaging or 3D integration.
Why automate wafer handling in a fab process?
Automating wafer handling in a fab process is important because at this stage the wafers are in the final stages of manufacture. The reliability of the robotic cells allows them to be handled in an ultra-safe manner and prevents them from breaking. The precision of their movement is of the order of -+50 microns. This ensures that the expensive wafers are picked and inserted reliably. At the end of the process, no wafer damage is to be recorded.
Integrating robotic wafer handling cells allows industries to ensure the reliability and efficiency of their manufacturing process. They will also increase their competitiveness with these solutions.
In addition to a high throughput rate that optimises productivity, they also benefit from a reduced defect rate at the end of the production line. In addition, handling errors are almost non-existent. Thus, product quality is guaranteed, which ensures customer satisfaction.
Finally, the integration of these wafer handling robotic solutions optimises the working conditions of the operators. They will no longer have to perform tasks that are too repetitive, boring and have little added value. They can be given more rewarding tasks in the production line.
The wafer handling robot cells are designed to maintain the level of cleanliness in the workplace. They are manufactured in accordance with standards and are suitable for use in clean rooms.
ATG Technologies – Designer of wafer handling robot cells
To automate and secure the handling of your wafers, choose the agile and customised robotic solutions designed and built by ATG Technologies. Our robotic cells for handling semiconductor wafers, called SideLoader, are made up of collaborative robots, designed to efficiently and reliably perform the loading and unloading operations of your wafers.
The ATG Technologies SideLoader is easy to deploy as it does not require a large space to fit. It is a solution with the latest technological innovation. It is designed jointly by ATG Technologies and Focussia. As it is a cobot, it is able to interact safely with your operators.
For more information, do not hesitate to contact our team of experts who will provide you with a quick and detailed answer.
Get a free no obligation quote
Contact our sales team for a personalized quote.