RFID rack for FOUP and POD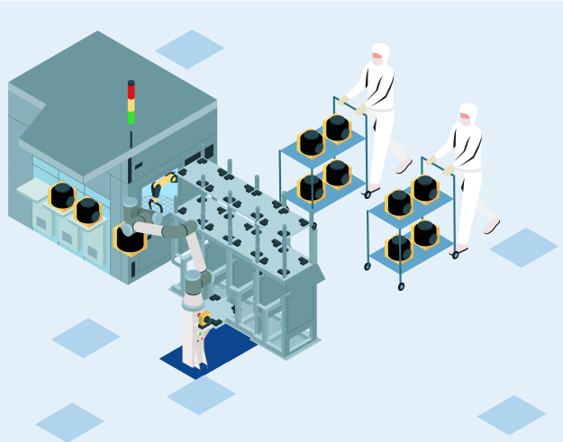 To save time and increase efficiency and productivity, equip your company's warehouse with an innovative RFID storage system. It makes it easier for your employees to identify production batches and store them for easy tracking. If you operate in the field of semiconductor manufacturing, ATG Technologies is proud to offer you custom-made RFID racks for pods.
RFID Racks for FOUP and POD: What are they used for?
Foups and pods racks are a system of RFID shelves specially designed for the semiconductor manufacturing industry. They are used in storage processes. The special feature of the equipment is its efficiency for the transparent storage and management of product batches, such as wafer carriers.
Incorporating RFID technology, the racks guarantee the continuity of the traceability of storage processes. Operators are able to identify the stored batch as it is stored. This is automatically registered in the central database. When the employee deposits or removes batches, he or she is guided to or from the rack by display messages or signal lights.
RFID racks are the best solution for optimizing stock management. Since the technology is linked to a computer, operators can, for example, see in the entire rack whether the stock is in an optimal situation or is exhausted.
What are the advantages of using RFID racks for bundles and pods?
Integrating RFID flip and pod racks into your semiconductor manufacturing facility offers many benefits:
Product customisation: since each product has a chip embedded in it, it receives a unique and customised treatment. All data is centralised, which optimises tracking;
Flexibility and time saving: as operators benefit from a dynamic and automated inventory. RFID technology is more advantageous than barcode-based systems;
Automatic registration: RFID technology integrated within your warehouse storage systems automatically registers information on each product: entry and exit process, errors, expiry date, etc. All this information is centralised to the central computer for easier stock management;
Location and traceability: with the RFID racks and pods for semiconductor factories, the products are permanently controlled. Thanks to the GPS they incorporate, it is no longer necessary to install a visual line between the tag and the reader for the identification and location of the goods;
Inventory: with RFID racks for semiconductor manufacturing, you don't risk running out of stock, as you receive timely information on the quantity of products available.
Why choose ATG Technologies' Racks for Pods and Foups?
Choose the innovative solution to optimize inventory management in your semiconductor manufacturing company. Choose ATG Technologies to integrate RFID racks for pods and fobs in your warehouse. With us, you will benefit from an efficient and innovative racking system. This ensures that your employees  will work more efficiently, increase productivity and optimize the competitiveness of your company.
The RFID racks for bundles and pods that we provide are specifically designed to fit the characteristics of your warehouse. To accomplish this, our experts carry out preliminary studies to better understand your needs. By choosing us, you benefit from a turnkey solution. Do you need more information on our products or services? Do not hesitate to contact us via our website.
Get a free no obligation quote
Contact our sales team for a personalized quote.