Retrofitting Industrial Robots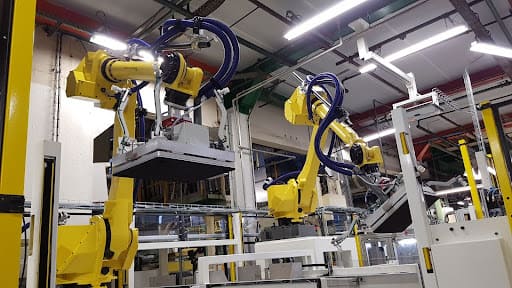 Are you a company manager and have you noticed that your industrial equipment no longer meets your needs? Are you unable to equip yourself with a new production line? Then retrofitting industrial robots is the best solution for you.
When should you retrofit industrial robots?
Retrofitting industrial robots is essential if you find that your robotic solutions are no longer able to meet the needs of your company and your customers. Such needs can be quantitative or qualitative. Retrofitting allows you to solve your production efficiency or profitability problem. It also allows you to replace your traditional industrial equipment with more modern solutions, without needing to allocate a large budget for the acquisition of new machines.
For example, you need to retrofit industrial robots if you need to convert your box palletiser into a case packer.
Our industrial robot retrofit solutions
To retrofit and transform your machine, trust ATG Technologies. Our experts have great skills and experience in industrial robotisation. Here are the services we provide when retrofitting robots:
Studies to evaluate your current needs. They are carried out by our technicians who are experts in the field of electricity, mechanics, automation, PLCs, numerical controls, etc.
Modification: after the studies, our teams go on site to transform the machine. Such an operation can also be carried out in the workshop to speed up the takeover.
Integration, which consists of integrating the robotic solution, installing its accessories and options, putting it back into service, etc.
If you need an industrial robot retrofit, do not hesitate to contact ATG Technologies. We have more than 20 years of experience in the design, development, manufacturing and integration of industrial robotic solutions. With us, you will have the assurance of benefiting from modern, high-performance and customized machines.
Get a free no obligation quote
Contact our sales team for a personalized quote.