Rail-Guided Vehicles (RGVs) – What Future?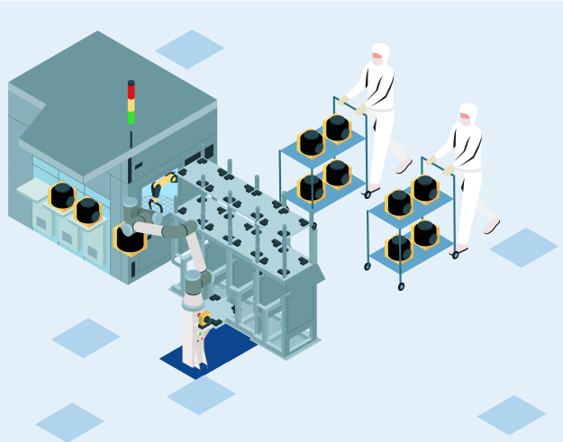 Recent years have seen the emergence of intelligent handling and transport equipment to efficiently connect different areas of a warehouse. Like automated conveyors, they are used in environments with a continuous and repetitive flow of goods, saving time, increasing productivity and preventing accidents.
RGVs, rail-guided vehicles, have dominated the market in recent decades. However, they are now being challenged by more efficient autonomous robots, namely AMRs (Autonomous Mobile Robots).
The RGV: Rail-Guided Vehicle
The rail-guided vehicle is used to connect distant areas in a warehouse for the transport of goods. It moves on a rail fixed to the floor. It is designed to accommodate various types of load handling equipment, such as telescopic forks, conveyors and satellite vehicles.
Through the automation of factory and warehouse flows, RGVs have improved productivity and reduced costs by:
Removing bottlenecks: RGVs have provided an efficient and cost-effective solution for transporting products between manufacturing and storage areas or between manufacturing and distribution areas. Thanks to their higher throughput compared to conveyors, they have reduced bottlenecks.
Providing a flexible and modular solution: the rail-guided vehicle integrator ensures that the equipment moves smoothly and consistently, no matter how complex the transport route.
Guaranteeing operator safety: track-guided vehicles can replace humans in performing strenuous tasks.
Reducing downtime: the transport of your goods in the warehouse does not run the risk of stopping during technical maintenance or a breakdown of some AVGs. They are interchangeable.
Increasingly, AVGs are being replaced by more flexible and agile autonomous mobile robots (AMRs).
AMR As A Future Solution For Your Production Line
The main difference between AMR and RGV is the navigation system. While RGVs move along the rail installed in the warehouse, AMRs adapt their trajectory according to the information received in real time. Using technologies such as artificial intelligence and machine learning, AMRs move according to pre-recorded routes without the need for guidance technologies, such as rails, which are essential for RGVs. This makes AMR easier to integrate as it does not require any structural modifications.
If an obstacle is encountered, RGVs stop to avoid a collision until the obstacle is removed. AMRs are equipped with AI, cameras, sensors and laser scanners. They are therefore able to create an alternative trajectory in case of obstacles. They are a more flexible automatic transport system than the RGV.
RGVs are less expensive but this technology requires modifications to the infrastructure of the customer site (in order to install the cables or magnetic strips). This is not the case with AMR. In addition, reprogramming the AGV requires specific technical skills and even a reorganisation of the workspace. The AMR can be reprogrammed without the intervention of an expert.
ATG Technologies: Agile And Customised Solutions For Your Industrial Needs
ATG Technologies is an expert in industrial robotic solutions. We have been assisting manufacturers in the realisation of their transformation project towards Industry 4.0 for more than 20 years. We provide them with agile, flexible products adapted to the specific needs of their production lines and workshops.
The autonomous mobile robots designed and manufactured by ATG Technologies are flexible and scalable. We work with all industrial sectors: semiconductors, aeronautics, biopharmaceuticals, food processing, etc.
ATG Technologies assists you in the installation and implementation of customised equipment. We guarantee not only the proper functioning of the equipment, but also the safety of users and the traceability of products.
ATG Technologies is committed to :
Quality: high-performance and reliable robotics that are adapted to the customer's needs.
Innovation: industrial robots and other technologies benefit from the latest technological innovations.
Tailor-made solutions: the solutions designed meet all the problems and specific needs of the customer. Beyond the equipment, we provide recommendations and manage the entire development process.
A complete solution: our customised production machines also include the Human Machine Interface (HMI), the control software and the development of the communication interface with the production management ERP.
Do not hesitate to contact us! We will get back to you as soon as possible.
Get a free no obligation quote
Contact our sales team for a personalized quote.