Mobile Load-Handling Robot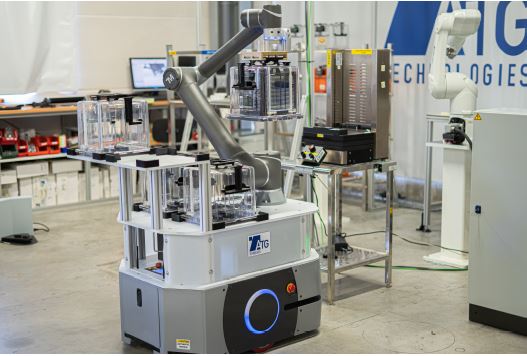 At the time of the fourth industrial revolution, factory employees were no longer entrusted with load handling tasks in order to ensure their safety and also the efficiency of the production line.
Considered to be tedious, these tasks can nowadays be performed by a mobile load handling robot. The integration of such a machine in the production line can only be an advantage to any production line.
What is a Mobile Load Handling Robot?
The mobile load handling robot is an industrial robotic solution with the ability to handle, lift and move products, tools, materials or parts without the need for direct human contact. In order to perform such operations, it is made up of many segments, sometimes telescopic or articulated. The most common models are equipped with articulated arms controlled by a controller. Depending on the model, these arms can have up to six degrees of freedom.
The mobile load handling robot is designed to operate in a specific space. Today, there are models capable of lifting loads up to 1,500 kg. The performance of such a machine is determined by its working speed, the weight of its payload and also by its precision. It can be equipped with a variety of specific gripping tools, which allows it to lift various types of products.
This automated equipment is a practical solution for handling goods, semi-finished or finished products in production lines and processes. It can be used in various industries, such as the aerospace, automotive, metallurgy, food processing sectors etc.
What Are The Advantages Of Using A Mobile Load Handling Robot?
The mobile load handling robot is an intelligent and ergonomic solution for handling loads for many companies. Equipping the production line with a mobile robot has many advantages. It can lift and move loads without the need for effort. Its movements can be controlled by an operator or by specific software. Thanks to its articulations, it is suitable for organizing products or objects in the workspace.
In addition, the mobile load-handling robot allows manufacturers to meet their requirements, particularly in terms of employee safety. It optimizes their working conditions by avoiding difficult or dangerous tasks (handling of chemical or radioactive objects, for example). Its integration within the production chain also ensures greater efficiency at work. Indeed, for humans, lifting and handling loads up to 1,500 kg can take several hours, compared to only a few seconds for an articulated arm robot.
A mobile load handling robot guarantees an important gain in productivity because it has a high rate of speed and allows operators to concentrate on other tasks with high added value.
ATG Technologies: Integrator of Mobile Load Handling Robots
Opt for ATG Technologies for the realization of your mobile robot load handling integration project. Our intervention can start from the study of your project thanks to our research department made up of many experts in industrial robotics.
From the analysis that we carry out, we are able to determine which robotic handling solutions are the most suitable for your production line. We take into account the work environment as well as various other parameters, such as the weight of the objects to be lifted, the production rate, the activity radii, etc. Our goal is to provide you with industrial equipment that is tailor-made and adapted to your needs.
With us, you will benefit from a better quality service, from the design of the project to the commissioning of your machines. If you need more detailed information, do not hesitate to contact us.
Get a free no obligation quote
Contact our sales team for a personalized quote.