Mobile Collaborative Robot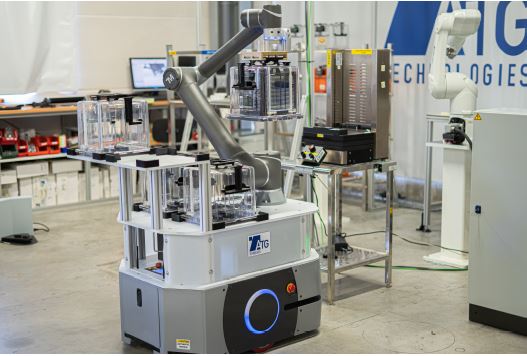 As part of the fourth industrial revolution, modern factories are increasingly emphasizing the human-machine relationship. Indeed, in order to optimize efficiency at work, humans and robots collaborate together and in complete safety.
This type of innovation is notably seen in the packaging and storage workshops of factories with the arrival of the mobile collaborative robot. The integration of such modern equipment is mainly aimed at optimizing productivity and safety at work.
Manual Mobile Collaborative Robot
The manual mobile collaborative robot, also called a pallet truck, is one of the variations of the mobile cobot. It is used for palletizing operations in packaging workshops and industrial warehouses. The machine can handle objects and place them on pallets. Its use reduces manual operations and increases efficiency and speed when palletizing cartons, bags, bundles and other types of objects.
The mobile manual collaborative robot is one of the best solutions for handling products between different production lines. Due to its compact size and lightness, it is easy to move when changing work areas or production lines. It can be handled in just a few minutes. To guarantee the safety of the operators and the cobot itself, it can immediately stop the tasks if an obstacle is detected. Finally, it can accommodate a telescopic jib for palletizing at height.
Automated Mobile Collaborative Robot
So that your employees do not spend their time moving manual mobile cobots between different production lines, you can choose the automated mobile collaborative robot, better known as Autonomous Mobile Robots or AMR. It is a true autonomous transport equipment, with the ability to move by itself through the production line thanks to its guidance, tracking and avoidance system (laser reflectors, rails or line on the ground, etc.). It does not require any human intervention.
The integration of the AMR in the production line has as many advantages. With this solution, your operators will no longer have to perform low value-added tasks in the various stations of the production line. For example, they will no longer have to go back and forth between the storage warehouses and the storage stations because the machine automatically handles the products, palletizes them, transports them and places them in the storage area. This saves time and allows your employees to focus on more important business activities.
In addition, the use of AMR solutions helps to meet the safety needs of employees. Machines replace humans in the performance of strenuous tasks. For this reason, your operators will not run the risk of musculoskeletal disorders or accidents while performing their work.
Why Choose Atg Technologies For The Design Of A Mobile Collaborative Robot?
To increase the productivity of your line, and to optimize the safety of your employees, you have the possibility of integrating mobile robotic solutions in your production line. With ATG Technologies, you will benefit from high-performance and customized machines. The AGVs and AMRs that we design are modular. This means that we can adapt their characteristics to your needs. You can benefit from such technology, regardless of the field of activity in which you operate: aeronautics, biopharmaceuticals, semiconductors, food processing or precision industry, etc.
Choosing the mobile collaborative robot from ATG Technologies means taking advantage of the best quality and performance for industrial equipment. This is due to both the skills and experience of our teams. So, for more information on our industrial robotics solutions, do not hesitate to contact us.
Get a free no obligation quote
Contact our sales team for a personalized quote.