Mobile Cobot Palletizing Machine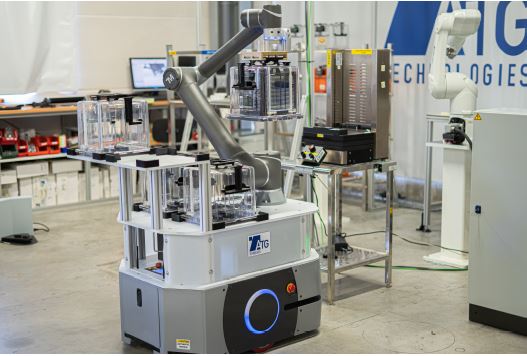 To make palletizing operations in their warehouses more efficient, many companies are now turning to collaborative palletizing robots.
What are these cobots? What are the advantages of using them? Who should you call to equip your warehouse with a mobile cobot palletizer?
What Is a Mobile Cobot Palletizer?
The mobile cobot palletizer is a collaborative robotic solution which is used to perform palletizing operations in the industrial environment. It distinguishes itself from classic palletizing machines due to its capacity to interact with humans in order to further optimize the productivity of the company. According to a study carried out by researchers from the prestigious MIT in 2016, human-robot collaboration guarantees 85% more efficient work than a robot or human operating alone.
This is the principal reason why engineers are integrating cobots into the industrial palletizing process. Their role is to accurately handle products of all weights and sizes throughout the day. They are equipped with sensitive sensors that allow them to perform a safety stop when they come in contact with an operator. Moreover, they are easily and quickly programmable. When the product in the line changes, the line operator only has to insert an end effector adapted to the cobot before it teaches him the gestures to be made to handle the product properly.
What Are The Advantages Of Using Mobile Cobot Palletizers?
Equipping your production line with mobile cobot palletizers has many advantages. Indeed, they are practical for packaging and palletizing products. Their speed is higher than that of humans because they can work day and night without getting tired. They are therefore the best solution for optimizing the company's productivity.
In addition to the gain in productivity, the mobile cobot palletizer guarantees the quality of work. The risks of error and thus of customer dissatisfaction are reduced. Therefore, collaborative robots can become a real ally for manufacturers who wish to make their activities more profitable. Due to their flexibility, they are also considered the best palletizing tools for all companies, including small, medium and mid-sized companies.
The mobile cobot palletizer is far more than just a tool for optimizing company productivity. It is also an excellent way to improve the working conditions of employees. Thanks to the machines, the latter will no longer have to do painful and risky tasks. Since they will no longer have to manually pack and palletize products, they will not risk suffering from musculoskeletal disorders. At the same time, the solution reduces sick leave, absenteeism and financial compensation due to after-effects in companies.
ATG Technologies: Expert in Mobile Cobot Palletizer
Choose ATG Technologies to equip your company with a mobile cobot palletizer. Our skills and experience in industrial robotization allow us to offer you turnkey and customized collaborative robots. Their characteristics are designed to adapt to the needs of your production line. They are also easy to use. Their programming does not necessarily require the intervention of a specialist. Even your line technicians can do it.
Regardless of the size of your company and your field of activity, the experts at ATG Technologies are able to provide you with flexible, high-performance, compact and easily programmable cobots. They can collaborate and interact safely with your employees. Their prices are moreover accessible. To benefit from our services, from the design of your robots to their commissioning, contact us via the form available online.
Get a free no obligation quote
Contact our sales team for a personalized quote.