Integrator of Automation Systems on Production Lines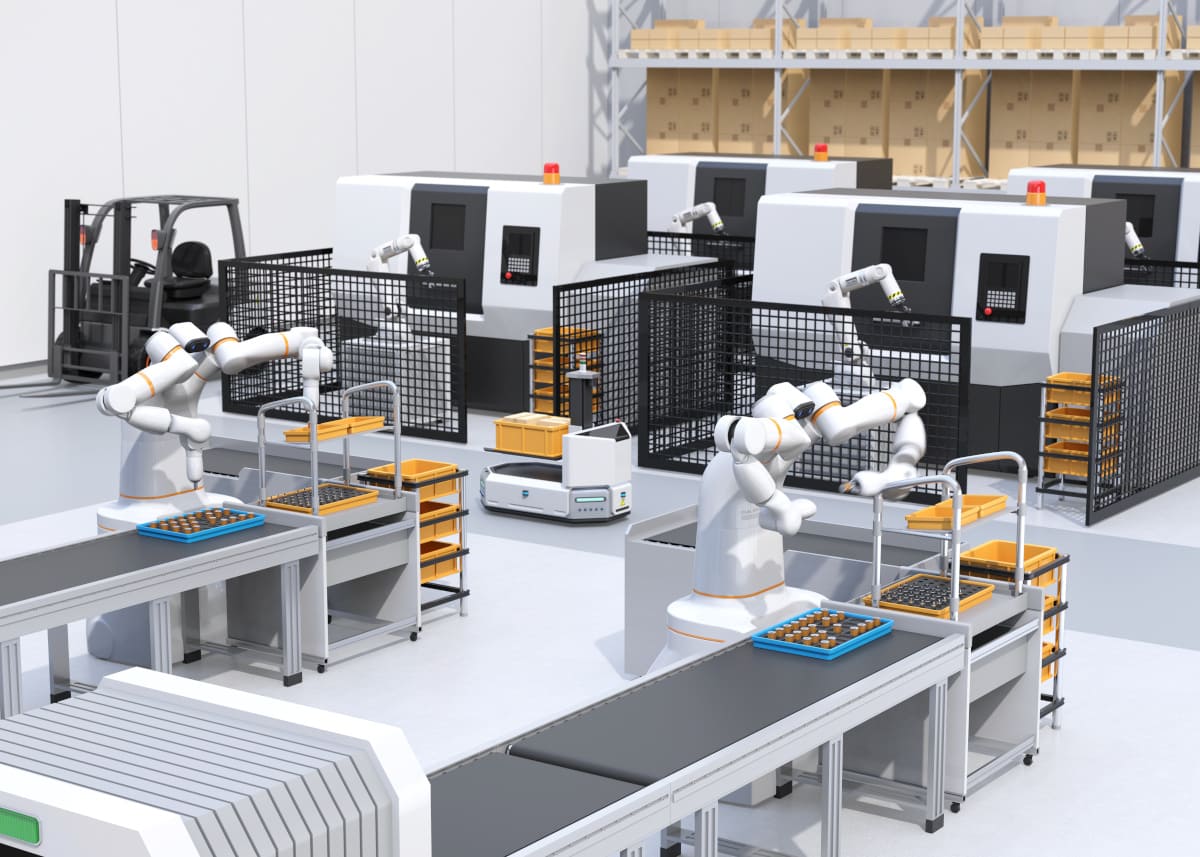 In order for a company to remain competitive in its sector of activity, its production lines must be equipped with automation systems.
These new solutions are essential today, as they not only optimise product quality but also increase the productive capacity of the industry. In order to achieve good results, it is useful to work with an integrator of production line automation systems.
We integrate automation systems within your production lines
Integrating industrial automation solutions within your production lines means equipping them with robotic systems to perform repetitive tasks. This has advantages for your organisation such as:
Reducing costs while increasing the production rate. Operators will no longer have to perform complex or even dangerous tasks.
Flexibility in the production chain: it becomes easier to manage the evolution of the supply chain and possible rapid changes. This is the case, for example, with instantaneous production of customer orders. The machines can immediately meet new demands, regardless of their volume.
If you are looking for a production line automation system integrator, call on the expertise of our team. With us, your needs will be assessed beforehand so that the automation solutions we provide will meet your expectations.
Moreover, thanks to our know-how, the downtime of your production line is reduced. We apply efficient techniques to ensure a fast and high quality implementation. Finally, to better understand the current configuration of your production lines and to determine your possible needs, we use analytical data and artificial intelligence or AI.
Bring your company into the industry of the future
By choosing ATG Technologies as your production line automation system integrator, you are bringing your company into the industry of the future. Indeed, we offer turnkey automation solutions, from project design, through the installation of the machines to their commissioning. Some of the operations that can be performed by our robotic systems include
End-to-end supply chain: this can be receiving, storage systems, packaging, sorting, dispatching, shipping, order picking, palletisers, etc.
Handling of objects or products: we can integrate pick and place solutions and palletising and transport solutions into your production line.
Other operations, such as R&D testing, production testing, liquid dispensing, education and training, etc. We are able to offer industrial automation solutions for these various types of activities.
Whatever industry you operate in, the robotics we offer may well be relevant to you. For example, it is suitable for the automotive, electronics, consumer goods, metal and plastics industries, etc.
ATG Technologies has been an integrator of industrial automation systems for over 20 years. By calling on our services for the automation of your production lines, you will benefit from the expertise and know-how of our technicians. Numerous customers and partners have placed their trust in us since our inception. So, if you would like to benefit from better support in carrying out your project, contact us directly via the online form. You can also request a free personalised quote.
Get a free no obligation quote
Contact our sales team for a personalized quote.