Industrial Automation and Robotics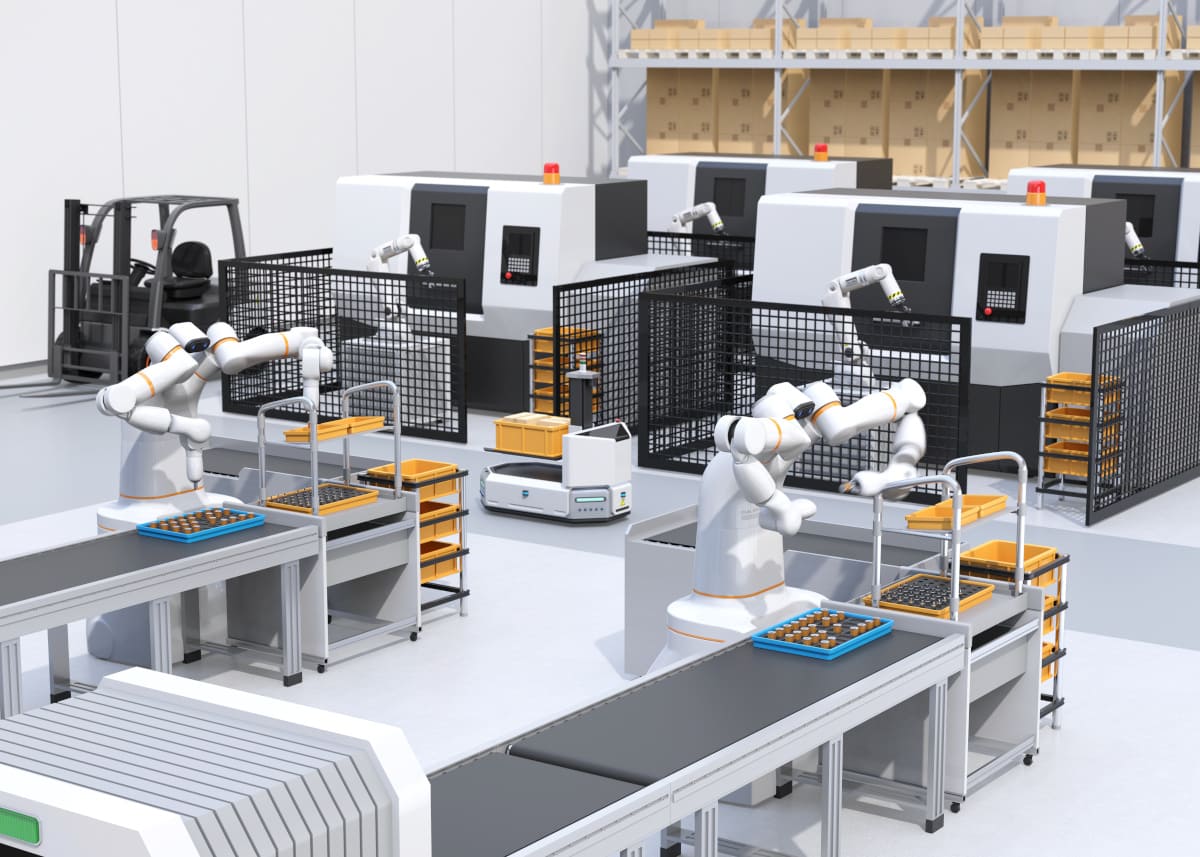 ATG Technologies designs innovative and agile solutions to optimise manufacturing processes and operational efficiency in your production lines.
Using automation and industrial robotics will allow you to increase your productivity and competitiveness.
Robotic Process Automation
When it comes to automation and industrial robotics, there are many solutions available, such as:
Automation of handling
ATG Technologies can help you to equip your production units with a collaborative robot capable of automatically loading and unloading your products or goods. You can use it to extend the range of action of automated transport vehicles (AMHS) in the event that the latter cannot access the loadports of certain tools.
Palletising automation
Palletising automation is the use of machines to stack and arrange pallets. It helps to improve safety by reducing the risk of injury from manual handling of heavy or awkwardly shaped items. Automated palletising increases the efficiency and effectiveness of your business by reducing the time and labour required for manual tasks such as stacking and arranging pallets. Finally, automated palletising systems can be designed to meet the specific needs of your business and can be easily reconfigured as your needs change.
Integrating autonomous transport
We design and manufacture scalable AMR solutions for various industries. This robot benefits from guidance, tracking and avoidance technology. It requires no human intervention to move through the production line. The AMR is a versatile robot. It can perform a variety of tasks and can be easily reprogrammed as your business needs and changes. It is an agile solution for the transformation to Factory 4.0.
Integration of Quality Control Systems
Increasingly complex manufacturing processes require the integration of control systems to improve manufacturing reliability and product quality. This mechanical or electronic verification ensures precise quality control. Thus, ATG Technologies' quality control system reduces manufacturing errors and waste at the end of the line and optimizes the quality of your products.
Integration of Industrial Robotics
The integration of automation and industrial robotics has many advantages, including:
Optimisation of manufacturing processes;
Improving operational efficiency;
Increased productivity and competitiveness;
Cost reduction;
Optimisation of the company's profitability;
Improving the working conditions of employees.
As a global player in the improvement of industrial processes, ATG Technologies can cover all the stages of your project, from signing off on the specifications document to its maintenance. Thanks to our expertise, you will improve your productivity and competitiveness.
ATG Technologies, Specialist in Automation and Industrial Robotics
ATG Technologies is a French company specialising in automation and industrial robotics. Our technical experts are able to accompany you from the design of your project to its completion.
ATG Technologies works to meet the needs of many industrial companies in the food, pharmaceutical, cosmetics, electronics, postal sorting and semiconductor sectors. As a leader in the design and integration of robotic processes, we will meet your requirements with customised solutions.
Do not hesitate to contact us, our experts will provide you with a personalised response.
Get a free no obligation quote
Contact our sales team for a personalized quote.