How To Successfully Palletize Impalletizable Products in Your Warehouse?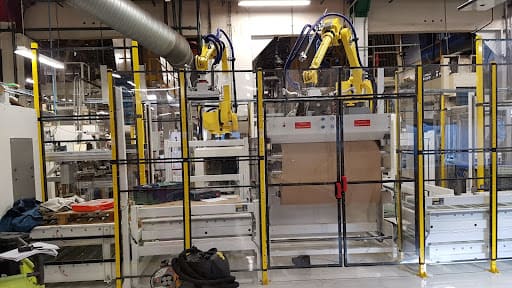 Custom palletizing is a common word in factories and also in warehouses. It is the process of putting goods on a pallet and wrapping them in pallet wrap to better protect them.
Since these tasks are very repetitive and can be dangerous for operators, more and more companies are opting for automation systems. So how do you successfully palletize your warehouse?
Why Is It Important to Automate Non-Standard Palletizing?
In addition to optimizing the protection of goods, palletizing is also intended to save space in the warehouse. It makes products more accessible and reduces handling time. The operation usually takes place at the end of the production cycle.
The concern with palletizing is that it can be risky for the operators. Since the loads which are to be lifted are always heavy, manual palletizing is almost non-existent today. In the countries where it still exists, it is limited to a maximum load of only 25 kg.
So, when asked how to successfully palletize your warehouse, many manufacturers now offer automated palletizing solutions. These are a better alternative, as employees no longer have to make strenuous physical movements. In addition to making work in the warehouse more efficient, robotics also offer a higher throughput rate compared to humans. This has a positive effect on the productive capacity of the company. This means that it is important to automate palletizing.
Customized Palletizing With Semi-Automatic Or Automatic Machines
Semi-automatic and automatic machines are nowadays part of the robotic solutions offered by manufacturers in terms of palletizing. Unlike portable palletizing machines, they are fixed. Their operation is quite simple: they automatically proceed to the filming of the pallet thanks to rotating trays on which the latter is placed. When the trays turn, the stretch film makes automatic turns around the pallet.
Semi-automatic or automatic wrapping machines are available today in several models. Their output can go from 25 to 180 pallets per hour. If you are wondering how to successfully palletize your warehouse, we advise you to use a semi-automatic or fully automatic machine. Remember to make your choice among the various existing models taking into account the size of your warehouse and also the number of pallets you want to handle during a period.
The difference between the two types of palletizing machines is that the semi-automatic model requires the intervention of an operator to start it up. The automatic model, on the other hand, works much more autonomously and needs very little human control.
Gain In Productivity With ATG Technologies
The automation of palletizing presents important issues in terms of productivity and competitiveness of the company. Since the machines are faster in carrying out operations, they give the production line a high production capacity.
If this is one of your objectives, and if you want to offer better working conditions to your employees at the same time, we advise you to use the robotized palletizing solutions offered by ATG Technologies. As a specialist in the field of industrial robotization, our company has the ability to provide you with high-performance and customized machines. For more information on our services, do not hesitate to contact our specialists via the online form. Another possibility is to request a quote directly online. This is free and without obligation.
Get a free no obligation quote
Contact our sales team for a personalized quote.