300mm Foup and 200mm Pod Transport Cart – Wafer Transport Cart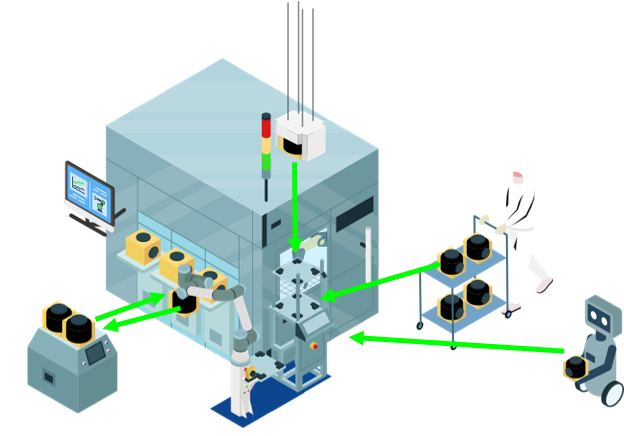 Pods/foups are fragile products. To ensure their integrity during processing, semiconductor companies invest in customised equipment, such as pod/foup transport carts.
ATG Technologies' pod/foup transport cart
The semiconductor manufacturing process can be divided into three main sections: initial processing, final processing, final assembly and testing. During these stages the pods/foups will be handled and moved. Due to their fragility, handling them requires care. Any damage to the pods/foups represents a real financial loss for the company. The use of appropriate equipment, such as a pod/foup transport trolley, is strongly recommended.
The following are the features of an ATG Technologies pod/loop cart:
Motorised lift truck for easy and precise movement of the wafer between process machines.
Transport platform with four height-adjustable rollers to suit the wafer size.
Two of the rollers are motorised to allow forward/backward movement of the wafer on the platform.
Locking device to hold the wafer in place during transport.
The equipment has a patented shock absorber system to reduce shock and vibration during movement.
AMR systems for pod/wafer transport
For the transport of pods/loops in your semiconductor industry, gain operational efficiency by opting for Autonomous Mobile Robots (AMR) systems. Our AMR systems ensure the safe transport of your pods/foups. Without any human intervention, they allow you to gain agility and flexibility.
The integration of an AMR is easy to deploy and does not require any changes in your production line. There are many benefits to using a pod/loop cart for your business:
Automation of wafer transfer between process machines, reducing errors and increasing productivity.
Increased safety due to the locking device, which prevents the wafer from falling out during transport.
The transport platform can be adapted to different wafer sizes, allowing for increased flexibility in production.
Why choose ATG Technologies?
For your quality, reliable and efficient pod/burst transport system, choose ATG Technologies' products. We can provide you with pod/loop transport carts tailored to your needs. We also design, manufacture and integrate AMR systems in France.
ATG Technologies is a company specialised in the automation and robotisation of production lines. The solutions we offer are designed to meet your needs and operating constraints. We have been assisting manufacturers for more than 20 years to accomplish their transformation project towards Industry 4.0. We support you in the installation and implementation of customised industrial equipment. Finally, we guarantee not only the proper functioning of the equipment, but also the safety of users and the traceability of products.
For more information on our products and services, contact us!
Get a free no obligation quote
Contact our sales team for a personalized quote.