300mm Foup – 200mm Pod Conveyor System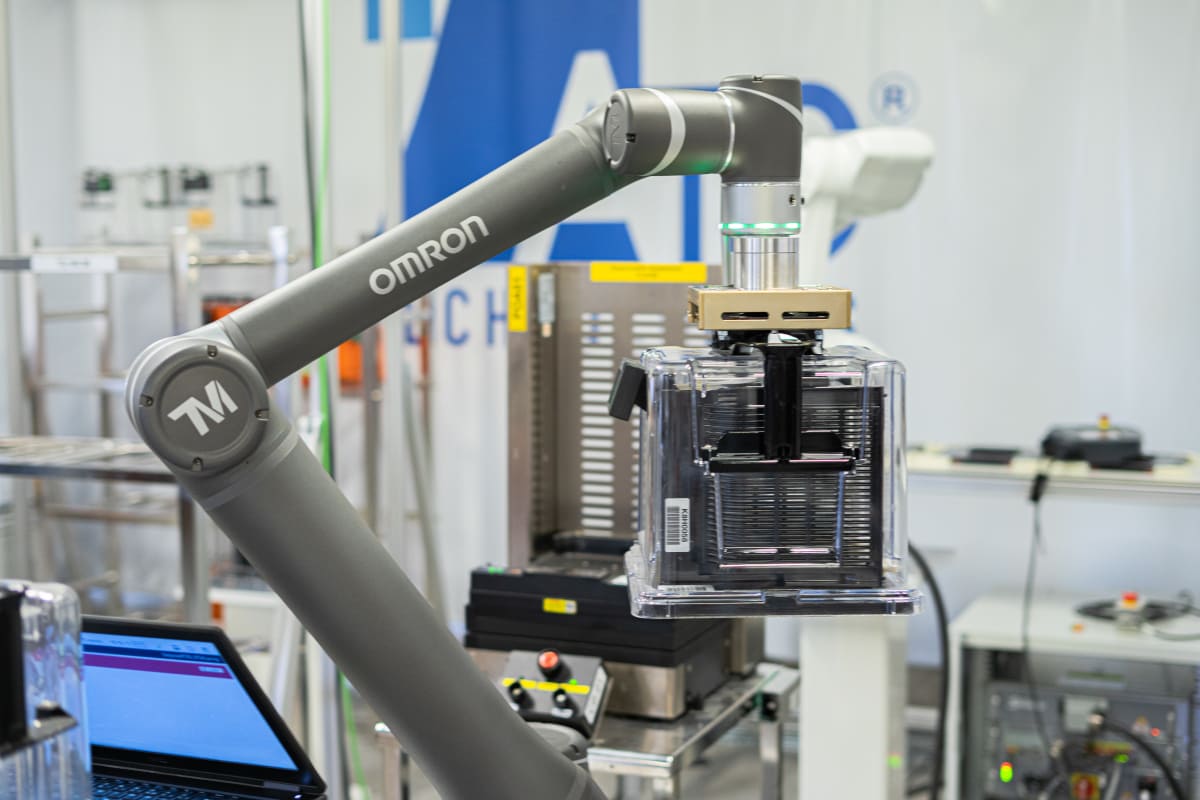 Do you operate in the field of semiconductor manufacturing? Are you looking for efficient solutions for the handling and transport of pods/foops? Then discover the best solutions at ATG Technologies.
As specialists in robotic solutions, we offer you a system for transporting pods/foups, namely the Autonomous Mobile Robot (AMR).
Handling 300mm Foups and 200mm Pods
Handling and transporting foups and pods is a real challenge for some companies that manufacture wafers and semiconductors. These products are fragile. For this reason, the transport system commonly used in warehouses is not suitable for them because of their fragility and their complex and very particular manufacturing process. Indeed, in order to become semiconductors, foups and pods have to go through several stages during which they are transported from one production line to another or from one site to another.
Equipping yourself with a pod/foups transport system is advantageous for the company. In addition to maintaining the quality of the pods, this solution optimises productivity thanks to a higher work rate. In addition, the wafer transport system is able to operate in areas inaccessible to other technologies. It therefore guarantees efficiency at work, and thus a higher productivity gain.
AMR systems for wafer transport 
For wafer transport, opt for the Autonomous Mobile Robots systems offered by ATG Technologies. This is equipment that moves autonomously, without the intervention of an operator. The AMR differs from the usual transport solution in that it does not need to be integrated in any special way. For this reason, it is more flexible. It is able to equip workshops without the need for structural modifications.
In addition, if your semiconductor industry uses OHT technology and it cannot access certain storage areas of pods and furnaces, you can easily connect it to the AMRs offered by ATG Technologies. They can enter these inaccessible areas.
By using our pod/foups transport system, you can benefit from various advantages:
Smoother loading and unloading

, as the vehicles act automatically. Their movement is pre-programmed, allowing them to act according to established protocols;

A

more ergonomic workstation

and a reduction in errors, as there is no human intervention. This ensures the quality of the resultant foups and pods ;

Easier deployment

of partial AMHS in already integrated fabs.
Why choose ATG Technologies for your semiconductor solutions?
Choose ATG Technologies to integrate the wafer transport system in your semiconductor fab. We are a company specialising in the automation and robotisation of production lines for various industries, including electronics and semiconductor manufacturing. With over 20 years of experience in the design and integration of wafer and solar cell handling solutions, we are able to meet even the most complex and diverse of your business needs.
To make the process of transporting your foups and pods more efficient, opt for the AMR system designed and integrated by ATG Technologies. Within the framework of our intervention, we will accompany you every step of the way in your project to automate your production line by taking into account your constraints of manufacture and budget. Our only concern is to provide you with a pod/foup transport system adapted to the needs of your production line and thus of your company. So if you need any further information, please do not hesitate to contact us.
Get a free no obligation quote
Contact our sales team for a personalized quote.