Automated Wafer Handling Robot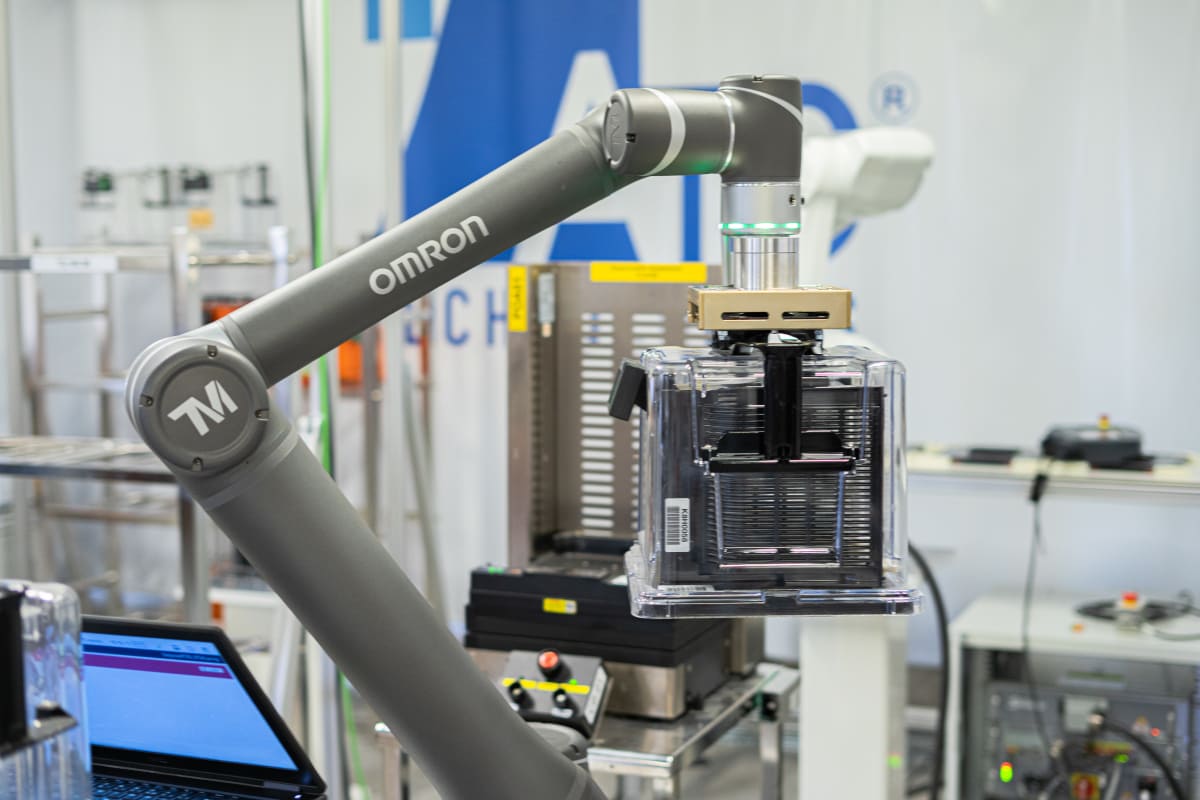 The presence of an automated wafer handling robot facilitates all wafer handling processes. Indeed, a single robot can accurately perform gripping, loading and unloading, etc.
For automated handling to be effective, the integration of robotics guarantees the efficiency and reliability of the final integration.
Value of an Automated Wafer Handling Robot
The use of an automated wafer handling robot is essential, as today's overall semiconductor productivity is increasingly dependent on the performance of robotic systems. A handling robot also increases the reliability and efficiency of manufacturing processes. Generally speaking, work done manually is irregular, slow and sometimes dangerous for operators. The automation of wafer handling therefore greatly increases the uptime of the wafers.
The advantage of using an automated handling robot is the ease, speed and high precision of moving the products. This also reduces the rate of product defects, rejects and errors. In terms of production quality and productivity, the robot thus plays an important role.
More than humanoid machines, robots are most commonly used in environments and situations where humans are too exposed to hazards. In the industrial sector, robots perform complex processes in automation technology and work more accurately and quickly than humans for repetitive tasks. The throughput as well as the productivity of the machines increases considerably.
By using the automated wafer handling robot, your team is also better managed. It can focus on specialized and complex problems or supervisory functions.
Research, medicine, industry, etc. are among the many fields where handling robots are very common. The semiconductor industry and the automotive sector are those in which the use of automated wafer handling robots is most pronounced.
Automated Handling Solutions Offered by ATG Technologies
ATG Technologies boasts strong expertise in the field of industrial robotics. It is therefore not uncommon for us to offer industrial companies various robotic solutions, such as the automated wafer handling robot.
Thanks to the know-how of its technicians and engineers, ATG Technologies can develop specific grippers, robot application software, etc. We develop different categories of robots such as collaborative robots, robots with parallel structure, robots dedicated to clean rooms, Cartesian robots.
In addition to automated wafer handling, our robots can be used for various applications including high-speed transfer, sorting, assembly of parts, picking, palletizing, packaging and packing.
We offer customers turnkey solutions, from the preliminary project to the design and implementation of tailor-made solutions. The food industry, cosmetics, electronics, pharmacies, plastics etc can call on our skills for the design and implementation of solutions specific to their activities.
Get a free no obligation quote
Contact our sales team for a personalized quote.