Automated Guided Vehicles (AGV) Manufacturer and Integrator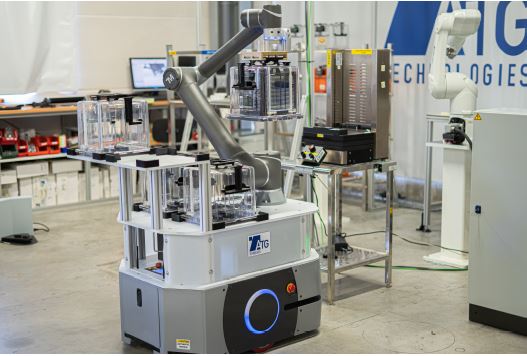 The self-guided vehicle first appeared in the automotive industries in the 1950s. It was a machine that moved loads without human intervention.
Today, the automated guided vehicle or AGV is beginning to gain ground in factories and warehouses. These new automatic load transport solutions offer many advantages.
Automated Guided Vehicles (AGVs) Needs
Automated guided vehicles or AGVs are vehicles that automatically transport loads to designated locations. They are usually battery powered and use computer controlled navigation systems. The vehicle comes in a variety of sizes and capacities and its features are chosen according to the weight of the materials it transports. AGVs are designed to handle a variety of materials, from the most fragile to the heaviest and largest. They can also be used to lift and stack loads over a short or long distance.
What differentiates them from older vehicular models is that they incorporate advanced technology in terms of navigation, safety systems, communication and tracking.
The Automated Guided Vehicle can automatically locate itself using one of the existing guidance technologies, such as:
Magnetic stripes;
Rails;
Lasers;
Opto Guiding or camera;
GPS
There are many workplaces where it is necessary to lift and move objects such as warehouses, factories, stores, automotive industries, aeronautical industries, etc. The concern is that this arduous work is sometimes entrusted to male and female workers. This exposes them to high risks of injury or musculoskeletal disorders. Even if they drive machines designed for lifting and transporting loads, the risk remains high. To guarantee the safety of your employees, you can invest in automated guided vehicles.
Manufacturing and Integration of AGV in the Industry
If many companies today opt for an AGV, it is because this type of vehicle  has so many advantages for transporting objects, including:
Continuous operation: the machine can operate 24/7, without the need for a driver. In order to operate day and night, you only need to program the battery recharge period, ideally between two operations.
Process security: the vehicle's route is programmed. Therefore, its movement is managed during the process, from the beginning to the end. In addition to improving product shipment, this also optimizes product traceability. In addition, the robot is equipped with safety devices, thus reducing the risk of accidents. But, most importantly, it can replace your employees in handling and transporting heavy objects. In addition, the automated guided vehicle remains operational even in places that are difficult to access due to hazardous materials or extreme temperatures.
Optimization of working conditions, as your operators no longer have to perform strenuous and repetitive tasks that could damage their health. They can be assigned to other high value-added jobs.
Labor costs reduction, since you do not have to look for additional personnel to transport your products.
ATG Technologies is the best option if the automation of product handling is part of your projects. We can provide you with several types of automated guided vehicles, regardless of your industry. By choosing our product and our service, you will benefit from the expertise and know-how of a dynamic team.
Get a free no obligation quote
Contact our sales team for a personalized quote.