Advantages of Autonomous Mobile Robots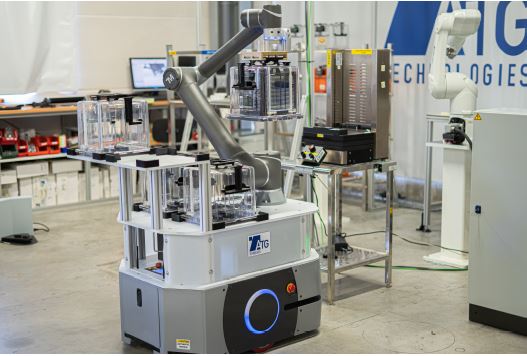 In recent years, the robotics sector has seen a steady stream of technological innovations. Industries are looking for an ever more efficient production line: the autonomous mobile robot (AMR) is one of these powerful and modern solutions. Discover the range of AMRs proposed by ATG Technologies.
The autonomous mobile collaborative robot
The autonomous mobile robot (AMR) is a collaborative robot. It works in close proximity to the operators. It enables and encourages collaboration between humans and machines, in the heart of work areas and in potentially congested spaces. The AMR benefits from guidance, tracking and avoidance technology. It requires no human intervention to move through the production line. The AMR is a versatile robot: it can perform different tasks such as automating transport tasks and moving goods inside a building. When equipped with a telescopic jib, it can also carry out palletising at height. These robots can be easily reprogrammed, depending on the needs and developments of your business. It is an agile solution for anyone wishing to make the transformation to Factory 4.0.
What are the advantages of an automated mobile collaborative robot?
There are many advantages to an automated mobile collaborative robot:
Operational efficiency
With AMR, you can free your employees from repetitive and low value-added tasks. The AMR brings fluidity and flexibility to your processes, preserving the health of operators and reducing the risks inherent in the transport of loads. In short, it improves internal logistics and automates flows.
Operator safety
The use of the automated mobile collaborative robot guarantees the safety of the employees in your warehouse or packaging plant. Unlike AGVs (Automated Guided Vehicles), AMRs are free moving and designed for dynamic environments. The numerous on-board sensors enable them to avoid obstacles and to move without risk of collision. Safety is guaranteed in any circumstances.
Productivity
AMR solutions not only perform arduous tasks, they also carry out repetitive ones. Thanks to their higher throughput and excellent precision in handling objects, they guarantee both quantitative and qualitative production.
Why choose ATG Technologies' autonomous mobile robots?
ATG Technologies has innovative and tailor-made robotic solutions to enable you to optimize the productivity of your production line and ensure the safety of your employees. We can design and manufacture agile and efficient AMR solutions. Our products are designed to fit your industry.
For more information on our products or to request a free quote, please contact us via our online form.
Get a free no obligation quote
Contact our sales team for a personalized quote.