Universal Robots (UR) Collaborative Robot Designer and Integrator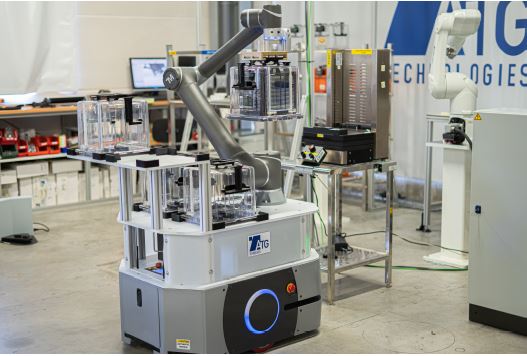 The robotics sector has greatly evolved in recent years, especially with the appearance of collaborative robots, also called cobots. These are industrial robots designed to perform certain tasks in factories and to coexist and interact with operators. They optimize the safety of operators and increase the productive capacity of the company.
Among the most commonly used cobots at the moment are those produced by the brand Universal Robots (UR). So, to make your production line more efficient, you need to call on a Universal Robots (UR) collaborative robot designer and integrator.
Why Integrate Collaborative Robots From Universal Robots?
A cobot or collaborative robot is a robot that has the ability to learn and perform certain tasks to assist operators. Cobots differ from regular industrial robots in that they are designed to collaborate and interact with humans. Among the many brands offering such industrial machines is Universal Robots (UR).
All About The Universal Robots (UR) Brand
Universal Robots (UR) is a Danish company known for designing, manufacturing and marketing industrial collaborative robot arms. The company was founded in 2005 by three engineers: Kasper Stoy, Esben Ostergaard, and Kristian Kassow. The three experts were aware that the robots that dominated the market were expensive, heavy and not so easy to handle. Thus, the idea of creating the brand was born with the aim of designing more innovative robots, suitable for small and medium-sized companies.
In 2008, the company succeeded in bringing the first UR5 collaborative robots to the German and Danish market in 2008, followed by the UR10 cobots in 2010. New innovative cobots were then presented at Automatica in 2014 in Munich. The following year saw the appearance of the UR3 tabletop cobot model with the distinction of being more compact. But the company brings more innovations in the field of industrial robotics with the manufacture of the UR16e, a cobot with the ability to perform tasks with large payloads. They are used in particular for the maintenance of heavy machinery, handling of heavy materials or palletizing.
All this means that UR has many years of experience in designing and manufacturing collaborative robots. To benefit from its products, you need a good Universal Robots (UR) collaborative robot designer and integrator.
Benefits Of Choosing Universal Robots (UR) Collaborative Robots
Many manufacturers are now opting for Universal Robots' cobots to optimize the productivity of their production line. If the brand is now among the must-have in the industrial automation sector, it is because its products are of better quality, performance and reliability. In addition, innovation is one of the key words for the manufacturer. It is constantly investing in research to further optimize its collaborative robots. The goal is to improve robotic learning and optimize collaboration between machines and humans in the industrial production process.
Why Choose ATG Technologies For The Integration Of Universal Robots?
Need a Universal Robots (UR) collaborative robot designer and integrator? Then trust ATG Technologies. We integrate industrial robotic solutions. We have the necessary skills to equip your production line with collaborative robots manufactured by the Danish brand UR. With us, you will benefit from the expertise of a specialist in industrial robotization since we have been operating in the field for over 20 years. We are able to offer you a turnkey and customized solution. To do so, we first evaluate the needs of your production line. We then procure cobots from Universal Robots, making sure that their characteristics are perfectly suited to the needs of your production line. We then proceed with their installation and commissioning.
To find out more about our services as a Universal Robots (UR) collaborative robot designer and integrator, please contact us or request a free quote. Our experts will get back to you shortly.
Get a free no obligation quote
Contact our sales team for a personalized quote.