Industrial Robot Integrator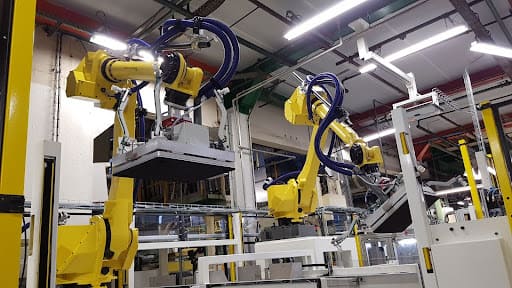 Industrialists continuously look to improve their competitiveness and thus make their investments profitable. To achieve their goals, they look for more innovative solutions, by equipping themselves with industrial machines.
To achieve positive results in the digital transformation, it is essential to be accompanied by experts in the automation of production lines. So, how do you find a better industrial robot integrator?
Design and Integration of Industrial Robots
The integration of industrial robotics in the production line seems to be the ideal solution today to guarantee the competitiveness of the company. Indeed, it enables the manufacturing process to be optimized, which implies obtaining a better quality product in a very short time and at a lower cost.
Compared to human operators, robots have the ability to perform tasks in a fast and precise way. Moreover, their reproducibility allows them to repeat specific tasks in a similar way. They are, for example, the best alternative for the assembly of millions of parts. With industrial machines, the risks of manufacturing errors or non-conformity are reduced.
Moreover, because they work at a higher rate than humans, they optimize the company's production level. Process costs are also reduced because the company no longer has to hire employees who perform low value-added tasks. They can be assigned to higher value-added jobs.
It is crucial to ensure the performance and reliability of industrial machines. Their design and integration must therefore be entrusted to an expert in the field such as an industrial robot integrator.
What Are the Keys to Successful Robotic Integration?
For successful installation, the industrial robot integrator may have to equip the machines with additional features. This is, for example, the case of a vision and parts loading system. Other examples include vibrating trays, vibrating bowls, blister unstackers, etc.
In addition to this, the manufacturer must guarantee the complete integration of the industrial robots. Thus, the manufacturer must :
Make a 3D digital simulation of the trajectories;
Improve cycle times;
Carry out feasibility studies and feeders;
Carry out studies and mechanical calculations, especially for gripping elements;
Program industrial machines;
Analyze the programming of robots and safety;
Carry out an installation, a wire connection or a tuning.
The installation of tool changers and vision systems allows us to offer a multi-product and flexible production line.
Why Choose ATG Technologies as an Integrator of Industrial Robots?
ATG Technologies has been considered  as one of the best integrators of industrial robots for several years according to our past and current customers. Our services do not only consist of integrating industrial machines as we also design and distribute turnkey solutions in the field of robotics and industrial vision. As an integrator of industrial robots, we offer you a complete, high-end service, regardless of the sector of activity. Our achievements are particularly suitable for electronics, pharmaceuticals, food industry, etc. Depending on their model, they can be used for :
Handling and palletizing;
Collaborative robotics;
Autonomous transport;
Quality control of products;
Secondary packaging…
In addition to expertise and quality, listening and adaptability are also part of the key words of ATG Technologies. To offer you customized solutions, we also rely on innovation and technology. Our technological laboratory integrates the latest advances in automation such as 5G. So, don't hesitate to call on us to set up your project for the integration of industrial machines in your production line.
Get a free no obligation quote
Contact our sales team for a personalized quote.