300mm wafer handling robot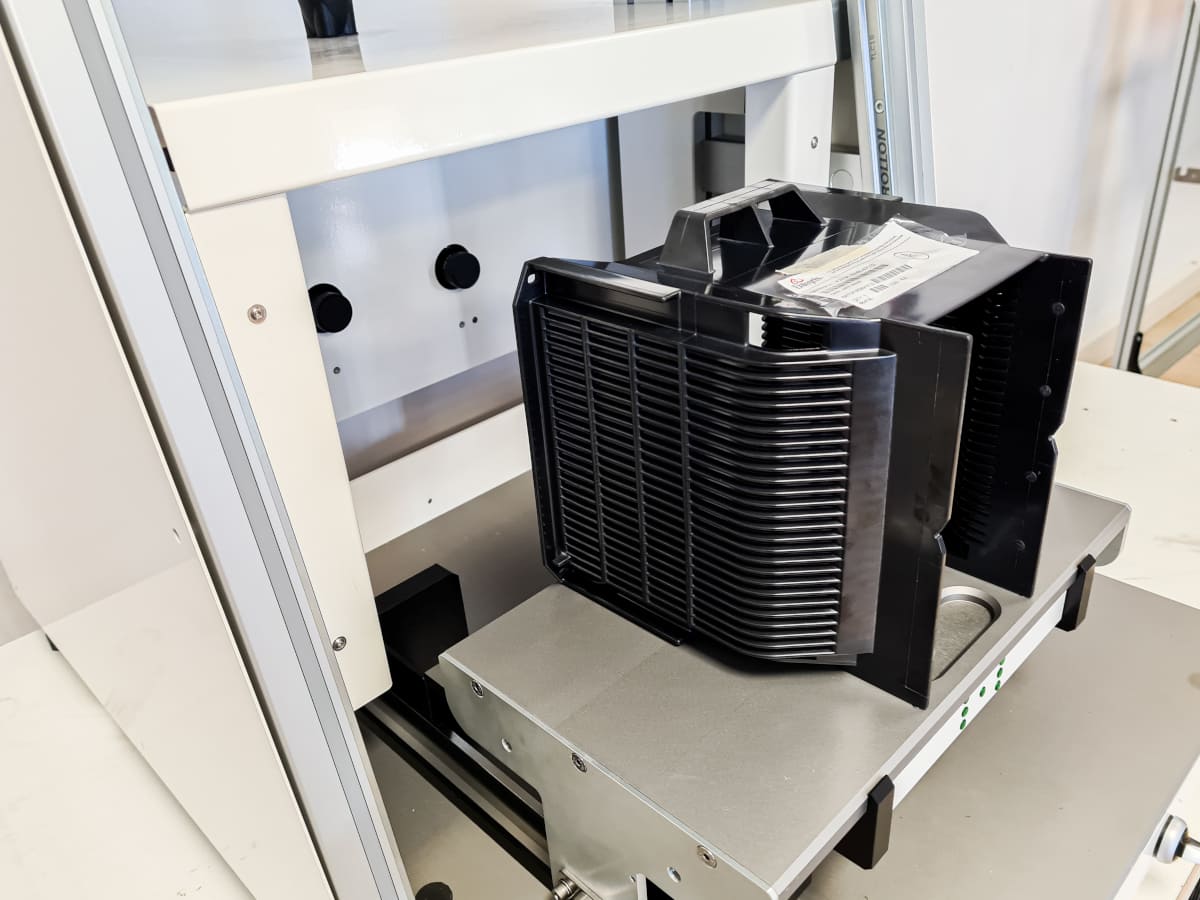 To safely handle your 300mm wafers at the critical stage of your production process, you should consider integrating robotic solutions into your line. ATG Technologies are proud to offer you a robot that can perform high precision gripping, loading and unloading.
Delivering high-performance and extremely agile, our 300 mm wafer handling robot guarantees the reliability and efficiency of your processes.
300mm wafer handling robot
The 300mm wafer handling robot is an automated robot designed to handle and transport 300mm wafers with precision. It is usually used in the production line of semiconductor industries. It is particularly useful if the line cannot accommodate Overhead Hoist Transport (OHT) systems. Integrating the robot ensures that the automated transport of pods and foups becomes more efficient.
The integration of this automated 300mm wafer handling solution is a must for optimising the productivity and competitiveness of your semiconductor industry. It makes manufacturing processes more reliable and efficient. Since the 300mm wafers are handled with great precision, there is no risk of deterioration. At the same time, line productivity is increased due to the higher speed of action.
In addition, the 300 mm pod handling robot increases the availability of the operators as they can then be assigned to more rewarding tasks. Their working conditions are also improved as they no longer have to perform repetitive and boring tasks.
This equipment is targeted for use in various industries in different sectors, such as semiconductor manufacturing, electronics, medicine, research, etc.
Features of the SideLoader
ATG Technologies can become your partner for the automation of your semiconductor manufacturing processes. The French company offers you the SideLoader, an agile and customised robotic solution designed to meet your production needs and to match the specificities of your production line.
The ATG Technologies SideLoader is a collaborative robot used for the automatic loading and unloading of 300mm wafers. To integrate it within your production line, you don't need to plan a large space. It is ergonomic and compact. Because it is a cobotic solution, it can interact safely with your operators, thereby maximising operational efficiency. If there is a risk of impact or collision with humans in the vicinity, the machine automatically stops thanks to the sensors it is equipped with. The Sideloader integrates perfectly with the FAB communication standards (SCS/GEM/E84). It is an innovative solution in that it is the result of the combination of technologies provided by ATG and its sister company Focussia.
ATG Technologies, specialist in wafer handling robots (300 mm Fab)
ATG Technologies' solutions perfectly meet the expectations of the semiconductor manufacturing industry for the automation of their production units. The French manufacturer offers customised, turnkey solutions. It also has a team that can assist industries in the integration of a 300 mm wafer handling robot, from the design stage of your project right to its completion.
ATG Technologies and Focussia can design, manufacture and install gripper robots integrating the cobotic solution. Make us your partner to equip your production line with parallel structure robots, collaborative robots, Cartesian robots, clean room robots, etc. This equipment can perform specific tasks such as handling, loading and unloading of 300 mm wafers, sorting, assembly of parts, palletising, picking, packaging and wrapping.
Do you need more information? Feel free to download our free brochures or contact our technical experts via our form.
Get a free no obligation quote
Contact our sales team for a personalized quote.